Nov 13th 2006
Angela Writes:

Hi there,

I just wanted to say thank-you so much VeggieDate! I had never joined an e-dating service before as I was wary of who was on them. I found the link to your website via some information I got from Farm Sanctuary folks. I was a new vegetarian at the time (I'm vegan now), and their literature suggested getting out and meeting other like-minded folks in the community and they also mentioned veggie dating services was one way to do that. I had no idea such a thing existed at the time, but I thought hey, great! At least we would have some important lifestyle/ethical things in common so I gave it a try. The first picture I saw, the first ever e-mail I sent via a dating service and YIPPEE!! I met my future husband on your website. We got engaged 18 months after we first met, and got married 2 months later. We are very, very happy!!

Thank-you so much VeggieDate!! You helped pave the way to a very happy, fulfilling and truly blessed life for my husband & I and our little family.

Cheers!
Angela :)
---

Nov 6th 2006
From Heather in Lexington, Kentucky

My sexy veggie man and I are getting married! We met on your site 2 1/2 years ago. I wasn't expecting much, maybe just a pen pal. After a few emails, we met for coffee and fell in love. He's exactly the man I had been deaming of, but didn't think existed. There's nothing in the world like true love. Thank you Veggiedate!
---
Nov 2006
From: Joy - from Ottawa

"I have truly met the love of my life. We not only share the same diet but
the same principles and life priorities. There does not seem to be any
topic we cannot discuss, nor a problem we are not both willing to work out.
The more we get to know each other, the more we realize we are meant to be
together. Truly he is my soul-mate!

We both had profiles posted on other singles sites but neither of us were
meeting other people who were really like-minded. Rather coincidentally I
discovered Veggidate.org and signed up June 11th...which just happened to be
his birthday. I found him through a VeggieDate search in July and, after a
few encouraging phone conversations, he drove 12 hours from his city to mine
so that we could meet in person.

That was in the middle of August, and now in November we are planning our
wedding, and in the new year we will bridge the distance between us when I
move with my two children to live with him in New York.

We were both married and divorced and knew what we didn't want...but it
wasn't until we met each other that we realized what we had been missing and
now know exactly what we do want!

I wish everyone can find a partner and relationship equally as amazing and
fulfilling as ours is!"
---
Mark From New Jersey
Writes September 30, 2006

I met the most wonderful person through veggiedate... we got married this July. I just wanted to thank you for offering your services

---
Date: Sun, 02 Jul 2006
Subject: RE: VeggieDate Quarterly: Free 3 months, for getting new member.

Hi,
please take me offf of your mailing list. With your help, I met and married
the love of my life.

Thank you!!!!!!!!
David
---
Date: Wed, 21 Jun 2006
Jesse and I met through Veggiedate a couple of years ago : )
Email correspondence led to a few meetings and we fell in love : )
We are a family now and expecting our first baby in January 2007!
Thank you so much!
Mel.
---
From: Ramona
To: veggiedate.org
Sent: Tuesday, February 28, 2006
Subject: VeggieDate comments about deleted ad

Thanks for your concern. I actually met somebody on your site over 3 years ago and we will be married in September. Thanks for the opportunity for us to meet as I'm sure we never would have otherwise.
Ramona
---
Nov 17th 2005
Lorraine writes:

Hello Steve,
Just wanted to send you a very BIG Thank You! Joe and I met thanks to your web-site, we've been together now for 9 months, and we are very happy!:o) We both wanted to find our "someone" and we have! It's almost impossible now to think of a time when he wasn't in my life. He is my Honey and my best-friend! Thanks again! Much love, Lorraine x
---
Tuesday, Nov. 15, 2005
James writes: Another success story

Kimberly hot listed me almost a year ago to the day. I immediately emailed her and we chatted via email for a couple of weeks. Our first date was Dec. 10 - we went to Sunflower Cafe in Vienna, VA - an all vegetarian asian restaurant. We hit it off right away. Kimberly moved closer to me and we spent weekends with our 3 doggies at the dog park and checking out all the good vegan restaurants in DC. As our relationship progressed, eventually we started talking about moving in together. Then, two weeks ago, I surprised Kimberly with a trip to the vegan B&B, Sweet Thyme Inn, in West Virginia. While on a hike, I asked her to marry me - and she said YES! Anyway - thank you so much for providing this incredible resource. We're looking forward to spending the rest of our lives together thanks to your website. We wanted to share our happiness and hope your other subscribers find what they are looking for as we did. Best wishes - Jamie and Kimberly (and Sophie, Molly and Rory, too)

---
Friday, November 11, 2005
From: Anna

Hello, VegieDate!
I want to thank you for helping me meet my husband. I put my ad on winter 2004, within a few days, Ilya emailed me. We both live Russia, but then we lived on separate sides, he lived in Moscow and I lived in Irkutsk. We both have been vegetarian since we were 13. Actually, I couldn't have even imagined that I could find a vegetarian guy! We have so much in common, we wrote so many huge letters to each other. Then, on March 3rd, he invited me to Moscow (and payed for the plane tickets and everything else) for the weekend! It was great! Then, when I got back to Irkutsk, I realized that I want to live in Moscow and be close to him. So, I moved to Moscow in late April. His mom found me a job and we were dating. It was great! Then, in autumn 2004 he proposed to me. On July 9th 2005 we were married! Everything is wonderful! I want to thank you for helping me find my soul mate.

Anna and Ilya,
Moscow, Russia
---
From: Sarah
Tue Nov 1st, 2005
Married last year, baby due Jan. 15th, 2006!!

John and I met on Veggie Date 5 1/2 years ago (March 9, 2000), and got married in Oslo, Norway, on November 27th, 2004! THANK YOU, VEGGIE DATE!!!!

I tried Veggie Date on a whim, after seeing an ad for a 3-month trial period for the site. After meeting some neat (and, well, less neat) guys, I became a paying member. John wrote to me shortly after the trial period was over, and it was love at first phone call! We talked for an hour, and I felt really connected.

We met at a Chinese veggie restaurant in NYC, and continued connecting. It felt so good to be with him. Time flew, and I felt so comfortable. It was so nice and natural! To make it even sweeter, my fortune cookie that night said that I was "about to embark on my life's journey of love!" I shyly read it to John, who lifted his glass (of NYC water) and toasted to that! Ah, it was so romantic!

The relationship blossomed, and we moved in together a year later, in 2001. We moved to Oslo in 2002, and have been here since. Our traditional Norwegian (vegetarian) wedding (with a Jewish flavor, as I'm a rare specimen of Norwegian Jew), was so beautiful that it takes my breath away thinking about it a year later!

Our first child is due on Dr. Martin Luther King, Jr.'s birthday! We're thrilled, and can't wait to meet our little veggie!

THANK YOU again, for helping to make dreams come true! The happiness you have helped me to find--how can I thank you enough for the biggest gift life has to offer?? I can only say thank you a million times more!!! I thank you every day of my life!
Sarah and John Waters
---
Thursday, October 20, 2005
From Cary
HI, there. I met my an amazing man on VeggieDate in 2000. We are now married with a 3 1/2 year old son and a brand new baby boy. I have never been happier and feel so lucky to be with him. Having our ethics in common has been so essential to how we operate as a couple, and is so important in raising our boys with continuity.

Nathan really is a man I admire and look forward to growing old with. I am grateful to have benefited from your site. Thank you!!!
---
Sept 17th, 2005
Lisa writes:

Hut and I met on your web site last summer. Our first date was wonderful
and we have been together ever since. We are now engaged and have a home
together. Thanks for the connection! Lisa
---
Sept 1st, 2005
Hi Steve,

Just thought I'd share some happy news with you...and a success story for
VeggieDate. After having met via VeggieDate (we both had ads on your
site)...Kris and I were married on Sept. 17th of this year!
Kayla Rae :)

Thought you might enjoy adding this to your list of successful love stories!
---
Sept 1st, 2005
Dear Veggie Date,

Just to update you on another success story.Campbell and Lemur Lady (Sue) met through your Website last year. The attraction was instant and magical. We set up home together earlier this year and were married on the 29th July. We had a wonderful Ceremony at Haughmond Abbey, Shrewsbury, followed by a 'vegan' Reception at a local Hotel. Carnivores and veggies alike commented on how fantastic the food was!

Many thanks for bringing us together. we are completely and blissfully in luuuvvv
Best wishes
Campbell & Sue xx
---
Sent: Monday, August 15, 2005 8:21 PM

I wanted to thank you for providing me the opportunity to safely meet
other vegetarians through your lovely site. Not only did I meet some
interesting people but I met my fiance. I never had the chance to meet,
much less date, other vegetarians but through your site I was able to find
many others with the same conciousness as myself, eventually leading Victor
and I to finding each other. Thanks again!

-Sharese
P.S. I forgot to mention also that my dad and step mother (Jesse and Lila) met on this site about 6 years ago and have been happily married ever since. Thanks again!
---
Sent June 6th 2005
Here is our story:
Ken had 5 bicycles (and no car) and looked on veggiedate. He found me. I also have 5 bicycles, though I did have a car. In one of my pictures, I was wearing a helmet and rain gear. Who else but a bikie would find that attractive? :-) Ken emailed me. Needless to say, I emailed him right back. After a while we spoke on the phone. Among other similarities, we found that our politics meshed. Ken met my big three (wants in a man - vegetarian, cyclist, politics); who would have thought. About a month and a half after the first email, we met in person. Since we lived about 50 miles apart, I had to be the one to drive down there. Our first meal together was a Jamba Juice smoothie and Noah's bagels. For a year and a half, with no cell phones and only one car (we're both on the low tech side), we saw each other other every weekend and spoke often on the phone. Ken was willing to do the grueling trip to my place by bicycle and public transit; it took him 3 hours! In July 2004 we moved in together and continue to be happy together.

Another interesting aspect to this story is that I used to live in this area from 1979 - 1986. Ken had seen me bicycling around many times, but he wasn't a cyclist then, so I never noticed him. He'd even almost spoken with me once at a health food store but was too shy. (I wish he had!) Evidently, I was one of his inspirations for getting into cycling and eventually getting rid of his car. We knew a lot of the same people in the bicycle activist circle. Unfortunately, I had already moved away by the time Ken started pedaling.

Of course, the happy ending is that veggiedate got us together!
Diane and Ken
---
Sent June 6th 2005
Dear Steve and VeggieDate,

Just wanted to send you yet another happy story. I've been a member of VeggieDate on and off for over the years, since I was in college. I've met many good people through VeggieDate in that time. In fact, the first man I had good conversations with through your site is still a good friend.

Just over a year ago, I met Alex, who is now my partner. He did a search on VeggieDate for women with "rock climbing" in their profile. He found two, and one of them happened to be me. We started talking even though he lived several hours drive away, on the other side of the Sierra-Nevada mountains. Our first kiss was at the top of a climb at Lover's Leap near Lake Tahoe, about halfway between our homes. On the anniversary of that kiss, he moved in with me.

Thank you so much for providing the meeting ground. I never thought I'd meet someone with whom I have so much in common and with whom I feel so at home. The pool of people might be smaller on VeggieDate than on other sites, but there are some darn fine fish in that pool.

Best wishes,
Laura
---
Sent: Thur, April 07, 2005
Hi Veggiedate

You really were responsible for a wonderful thing.

I registered on veggiedate without any pre-conceptions, as a UK citizen. Very quickly a chap called John contacted me from Maryland in the US. We emailed for a while, then talked for hours into the night on the phone for a while before meeting last May, June, July & August. I then went out to the States on a career break for 6 months and lived with John during that time. I'm back in the UK now earning some cash to pay for my next career break - which will be getting married to the very same, gorgeous, wonderful John next June. Yippee!!

Thank you for giving me the opportunity to meet the person I've been looking for my whole life. If you could just have arranged for him to be this side of the Atlantic, it would have been all the better!! Having said that, both he and I are looking forward to the stimulation and challenge of living and working in each other's countries.

Kind regards
Sharon
---
Sent: Thur, April 07, 2005
Greetings!
Thanks to VeggieDate, I have a serious relationship with a wonderful man and also a new good friend! VeggieDate your service has been a blessing in my life!!!
I will not be renewing membership at this time - since my life is quite full.
THANK YOU !!!!!!!!!!!!!!!!!!!!!!!!!
Artist
Karrel Karrelart.com
---
Sent: Tuesday, March 08, 2005
Dear Steve,
Just a quick thanks to you and all at Veggie date. Last year, I emailed Lemur Lady.. didn't expect much.. this year we are officially in love,buying a home together and all.
Best wishes to you and keep up the good work.
Regards
Campbell
---
Sent: Tuesday, March 08, 2005
Subject: VeggieDate Web Email: Question/Comment for VeggieDate/Testimonial
From: Gary & Sarah

On behalf of both Sarah and myself, I would like to take a moment
to sincerely thank VeggieDate for offering such a fantastic service that
allows compassionate, like-minded individuals the opportunity to find true
love. One and a half years ago Sarah and I shared our first date, a
beautiful, picturesque autumn day that seemed as though it belonged only to
us. As if they had leapt from the most finely crafted pages of a storybook
romance, from the first day until now, and for many more to come, each day
brings with it the truth of what dreams may become. We have found our
soulmates in each other, and for that we are truly grateful.

Thank you,
Gary & Sarah

---
Feb, 24th 2005
Hi Veggiedate,
I just wanted to thank your service because nearly four months ago I met someone through this who is now my fiancee. Without your website I might have never met her and I really appreciate what you do.

Many many thanks,
Gurudev
---
Jan 15th 2005
Subject: Another Success Story:
My membership expired yesterday. I have not renewed because I met the man I want to spend the rest of my life with through VeggieDate. He wrote to me last December, a few days after I joined. The first time we talked on the phone I knew I loved him. We live 500 miles apart and get together about once a month. I'm looking for a job near his home, as he can't change locations for a few years. We plan to marry eventually. Thank you for bringing me the best relationship I've ever had.
Linda & Jerry
---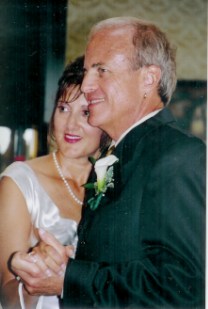 December 28th, 2004, update of Aug 2003 story.

Just to summarize what has occurred in our lives, my wife and I were both listed on Veggiedate. We got married August 3, 2003 in a small civil ceremony. We did it again a formal ceremony which included family and friends and got remarried on September 4, 2004. It was performed by an interfaith minister, in Oakdale New York (we live in Florida) and we had an Indian prayer read. Your site played a HUGE role in our getting together. That is why we wanted to send you an updated photo to include in the testimonial. We still love your site and will check it out. Again, thanks. Your site is excellent and there is someone out there for everyone. My wife and I are both over 50 and never married. Neither one of us thought we would meet anyone. Now, we are very happy.

Sincerely,
Daniel Furlin
Debra Siegel-Furlin

---
27th of December, 2004

Pregnant Australian Vegan and Canadian Vegan in Korea Fall In Love...

~ Jeff and I found each other in July 2004 through the VeggieDate website. Jeff is Canadian and I am Australian. (I am "Desert Girl," member 33843 and Jeff is 1608.) Jeff moved to central Australia in October and we are now living here together very happily with a beautiful baby. The baby's other biological parent is from a previous bad relationship that I was in, which ended a few months into my pregnancy. I had awful morning sickness and quit my job as a tour guide. Alone, feeling sick and sometimes sad, unemployed and pregnant I thought I would not find a new partner for a couple of years. Despite the circumstances I was mostly happy and enjoyed my social/family life and my pregnancy.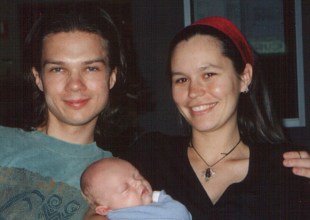 One day I was searching for my favourite website "The Food Revolution" by John Robbins when I stumbled across VeggieDate. Very curious but a little shy I investigated. I have never seen or used an internet dating/connections site before so when I tried this one, I couldn't help feeling embarrassed and kept it a secret. I took up the free trial offer and created a profile. I posted a picture of myself and stated that I was seeking friendship (not dating). I did not look at other profiles and I soon forgot about my ad. Then a couple days later I received three emails from friendly strangers. How exciting! Then I discovered I could look at all these profiles of other people. It felt wonderful to be in a virtual environment full of other vegetarians and like-minded people. Suddenly I was in the majority!
As I was scrolling through summary profiles of people I came across Jeff. I noticed the country "Korea" and that his face was not of Korean ancestry and found that curious. I was also impressed that he was a vegan and didn't drink or smoke just like me. . I have never met anyone else before who shares these values. I read his profile (luckily he had recently renewed his membership) and discovered he was teaching English in the city of Daegu. Coincidently my best friend did exactly the same thing the year before. I emailed Jeff's profile to my friend and she suggested I write to him. So I did! Was I glad I did that!

Jeff and I shared an instant connection. We have soooo much in common. It's so wonderful. He was surprised of course when I told him I was pregnant and single. We wrote very long intellectual emails to each other about animal rights, the state of the planet, Aborigines, our country of origin, our diet, we sent photos of each other, then followed long phone calls. South Korea and central Australia coincidently share the same time zone so phoning at the right time was easy. For the first time in many years I was able to have intellectual conversations that really challenged my paradigms of thinking. After resistance at first, I have changed the way I think about our relationship with animals. I now see that animals (unless rescued from their deaths) such as dogs, horses, bees and cows who are used for their milk are our slaves. Like the black slaves of America, given the choice, would rather be free.
We decided to meet. My baby was due to be born in early October. Jeff was due to finish a university course he was taking in early October. Two days after he graduated, Jeff packed up the life he knew in South Korea and flew down to Australia to be with me and the baby. While Jeff was on a jumbo jet plane, I was in labour! He arrived the day after my son was born and we met in the hospital! We looked into each other's eyes for the first time and fell inlove! (Well actually we had already fallen inlove over the internet.)
We were both suddenly parents, experiencing the joy and the stresses of a newborn baby. Jeff is really enjoying parenthood and I think it's great too. He is now settling into a new town and also continues his animal rights activism. I am a full time parent but I also continue my environmental activism and Greens politics. We love our baby and each other enormously and embrace our future with excitement, confidence and boundless possibilities.
~ My first impression of "Desert Girl" (DG) was attraction and apprehension. I was very attracted to her passionate soul and dedication to helping animals and our environment. I was apprehensive because I have very radical animal rights beliefs and I was afraid that she would find them unfamiliar. When I saw that she liked horse riding (something I strongly disagree with) I did not expect that we would become romantic. I also was not expecting to ever find a life partner. But when we communicate with each other it is so beautiful; we share such a genuine and loving connection. Our understanding and appreciation of each other grows and grows.
A third thing I never expected was to be a parent, but now that I am I love it very, very much. Nurturing a vegan child to build a strong, positive, altruistic character is as challenging as it is rewarding. The baby's smiles make my heart smile and I feel so at peace in this family.

Aside from the many things that DG and I have in common, we have perfect chemistry and compliment each other absolutely. I teach her what I know about animal rights and she teaches me what she knows about environmentalism. We continue to learn from each other as our love deepens every day. I love DG so much, she fills me -- overflows me -- with joy and warmth and love. It is so amazing that the foci of our passions are different, as we share and embrace the other's passion and they overlap into one. That is the metaphor for our life.
Desert Girl and Jeff
---
Dec 6th 2004
From: Michelle & Felipe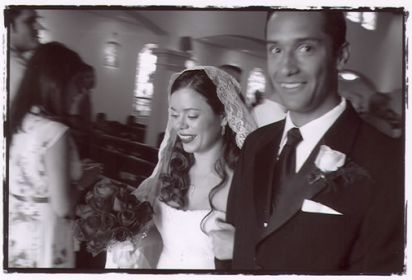 Dear Veggie Date Team,
We want to thank you so much for providing a platform for other vegans/vegetarians to meet. I had become a member after seeing a posting at a local Whole Foods Market because I had realized I could never date another meat eater. Soon after I decided to see if any vegans existed south of the border, and to my suprise there was one! Felipe and I met in February of 2003 and were recently married, August 14th, 2004.
Thank you for bringing us together and allowing two lives, two hearts and two cultures to come together!
Much Love,
Felipe & Michelle
---
Nov 8th, 2004

veggiedate resulted in a marriage a little earlier this year between another former veggiedate member and me. :) I met plenty of odd people along the way, but I ended up finding and marrying an extraordinarily wonderful man through veggiedate.
Thanks,
Gail

---
Oct 14, 2004
Hi Steve,

Thanks for the wonderful service you provide. I met my soul-mate, the
love of my life, after only two weeks of rejoining veggie date.
I've never been happier! We are planning our new life together thanks
to you...

In gratitude,
Karina
---
Sent: Tuesday, October 05, 2004 1:45 PM
Subject: VeggieDate Ad UPDATE
Name: Lianne, Member Number: 25102, city: Clifton
I just un-hid my ad to announce to the Veggie Date world that I met my match, Jason, in November 2003, he proposed to me in August and we are getting MARRIED in January 2005! We are having a lovely all vegan wedding in my home town, and then I'll be moving states for the first time in my life to be with the man I love, and our two cats, forever. Good luck everyone! We'll post our story and picture after the wedding in "testimonials"!

seeking = I already found him!

---